In a world where flagship smartphones command hefty price tags, the Samsung Galaxy A14 emerges as a game-changer, offering an exquisite blend of cutting-edge features and budget-friendly accessibility. A masterpiece designed for the discerning Kenyan consumer, this smartphone is poised to revolutionize your digital experience. Explore the myriad reasons why the Samsung Galaxy A14 is the ultimate companion for your tech-savvy lifestyle.
Samsung Galaxy A14 is a Visual Delight
Experience the world through a larger lens with the Samsung Galaxy A14's captivating 6.6-inch display. Boasting a full-HD+ resolution, this expansive screen guarantees an unparalleled viewing and scrolling adventure. From riveting videos to vivid images, every visual comes to life with remarkable clarity, ensuring that every moment captured is a masterpiece in itself.
Unmatched Performance, Uninterrupted
Powered by the formidable MediaTek Helio G80 processor, the Samsung Galaxy A14 redefines efficiency. Bid farewell to lagging frustrations, as this phone seamlessly navigates through applications and tasks, unleashing its full potential without compromise. The Helio G80 processor ensures that your smartphone journey is marked by seamless multitasking and lightning-fast responsiveness.
Unleash Your Inner Photographer with the Samsung Galaxy A14
Elevate your photography prowess with the Samsung Galaxy A14's game-changing 50MP triple-lens rear camera system. This innovative setup guarantees crystal-clear images and videos, whether you're capturing the beauty of a vibrant Kenyan sunset or the bustling cityscape at night. Revel in the brilliance of low-light photography as the A14 captures the finest details with unmatched precision.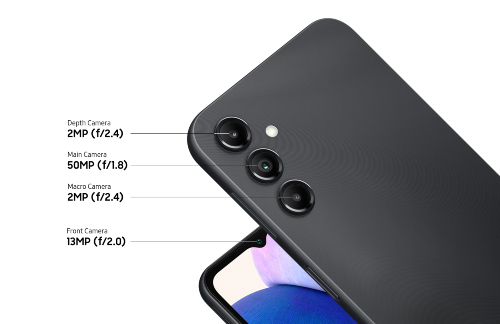 A Battery that Lasts as Long as You Do
Embrace an uninterrupted digital journey with the Samsung Galaxy A14's mighty 5000mAh battery. Engineered to endure, this battery empowers you with over 24 hours of continuous activity, ensuring that your device remains vibrant throughout the day. Bid farewell to midday charging woes and experience the freedom of a phone that keeps pace with your dynamic lifestyle.
Unveiling the Power of Software Security
Step into the future with the Samsung Galaxy A14's Android 13, enhanced by the intuitive One UI Core 5. This dynamic duo not only delivers an intuitive interface but also fortifies your smartphone with an array of robust security features. Safeguard your personal data and privacy while exploring the limitless possibilities that this seamless operating system offers.
What's Inside the Box?
When you unbox the Samsung Galaxy A14, you're greeted with more than just a phone. Alongside the sleek device, you'll find a USB C to C cable, a SIM ejector, and essential documentation. Samsung ensures that every detail is tailored to enhance your experience, from the moment you lay your hands on your new smartphone.
Samsung Galaxy A14 Quick Specifications
Dimensions: 167.7 x 78 x 9.1 mm

Weight: 201.0 grams

Battery: 5000mAh

Color Options: Choose from Black, Dark Red, Silver, or Green

Screen Size: 6.6 inches

Refresh Rate: Experience smooth visuals

Chipset: Octa-core for unparalleled performance

RAM: 4GB for seamless multitasking

Internal Storage: 64GB for all your digital treasures

Expandable Storage: Flexibility at your fingertips

Camera: 50-megapixel (f/1.8) + 5-megapixel (f/2.2) + 2-megapixel (f/2.4) for unrivaled photography

Front Camera: 13-megapixel (f/2.0) for stunning selfies

Operating System: Android 13, One UI 5 for a seamless experience

Connectivity: Wi-Fi, GPS, Bluetooth, NFC, USB Type-C

Network: 2G, 3G, 4G for uninterrupted connectivity

Sensors: Side-mounted Fingerprint Sensor, Proximity Sensor, Accelerometer, Compass
The Samsung Galaxy A14 is more than just a smartphone; it's your gateway to a world of possibilities. As you navigate through life's digital landscape, the A14 will be your reliable companion, capturing memories, enhancing experiences, and keeping you connected. Embrace the power of affordable innovation and secure your tomorrow with the Samsung Galaxy A14. Your journey begins now.