TECNO, the prominent mobile brand in Kenya, renowned for its innovative smartphones is on the brink of unveiling its latest phones in the midrange lineup – the Camon 20 series. The anticipation has been mounting, with leaks pointing to impressive features and a tentative release date for next month. We already have the actual images of the long anticipated phone.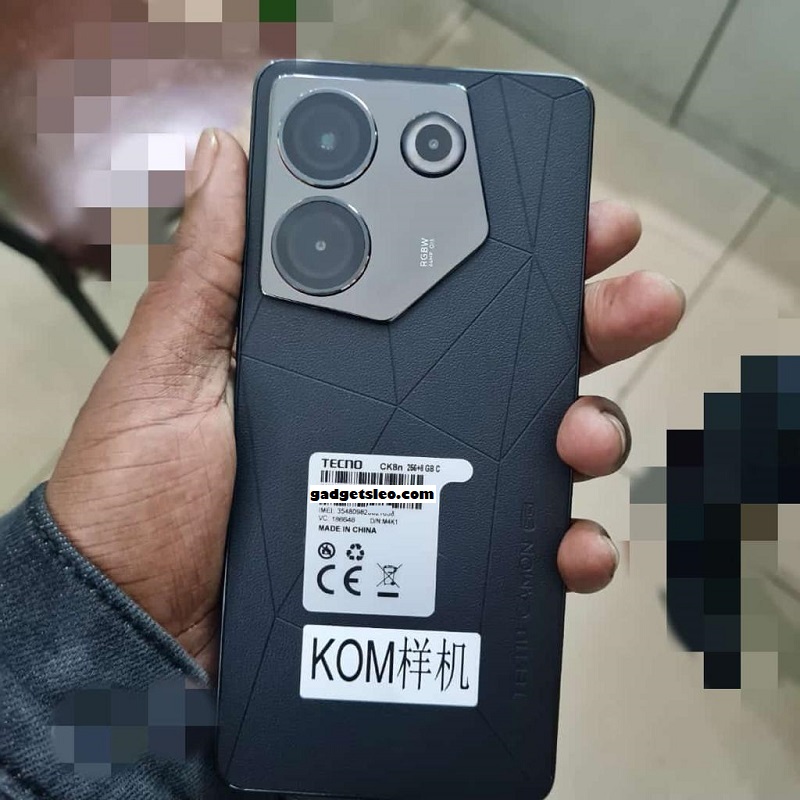 As you can see, the design is a bit different from that of last year's model. We have verified that the base model – Tecno Camon 19 (model Ck8n), will come with 8GB of RAM and 256GB onboard storage. 
According to circulated information that we have verified from various sources, the Camon 20 series is anticipated to contain three models: the standard Camon 20, the Camon 20 Premier, and the Camon 20 Pro. These successors to the Camon 19 series, launched last year, are set to cater to diverse user preferences and budgets, reinforcing TECNO's commitment to offering high-quality devices at various price points.
Reports suggest the Camon 20 Premier 5G will be powered by MediaTek's Dimensity 1200 chipset, a Mali G77 MC9 GPU, and an impressive 16GB of RAM, promising stellar performance. It's also expected to flaunt a 108MP primary lens, a 13MP ultrawide, and a macro lens, making it a potential favorite among photography enthusiasts.
The Camon 20 Premier 5G could also sport a 1080p AMOLED screen with a 120Hz refresh rate plus an in-display fingerprint reader with storage options starting from 256GB. However, TECNO has decided to forgo this model's headphone jack and expandable storage slot.
The rumored unique camera design at the back sets the Camon 20 Premier 5G apart, suggesting that TECNO is keen on pushing boundaries and redefining smartphone aesthetics.
The Camon 20 Pro is a more affordable alternative without compromising essential features. Rumors suggest the model will include a 6.7-inch LCD screen and MediaTek Helio G99 processor. In addition, It's likely to feature a 32 MP front camera, a dual rear camera setup with a 64MP primary sensor, an AI lens, and a sturdy 5,000mAh battery.
The Camon 20 series, if the rumors are true, stands to further this legacy. The potential combination of high-performing chipsets, superior camera capabilities, and unique design elements could make the Camon 20 series a severe contender in the midrange smartphone market.
As we anticipate the manufacturer to unveil the smartphone in our market very soon, the assumption about the pricing of the new Camon 20 devices is teeming. The Camon 20 Premier 5G is expected to cost around 40,000 Ksh, but official confirmation is yet to come. With TECNO's track record of offering value-packed devices at competitive prices, the anticipation for the Camon 20 series is palpable.
Keep checking with Gadgets Leo as we update you with the latest information on the Camon 20 devices. See you at the official launch event