Introducing the game-changing iTel A60, a revolutionary device that seamlessly blends cutting-edge technology with affordability. Designed to cater to your every need, the A60 is your ultimate companion for work, play, and everything in between.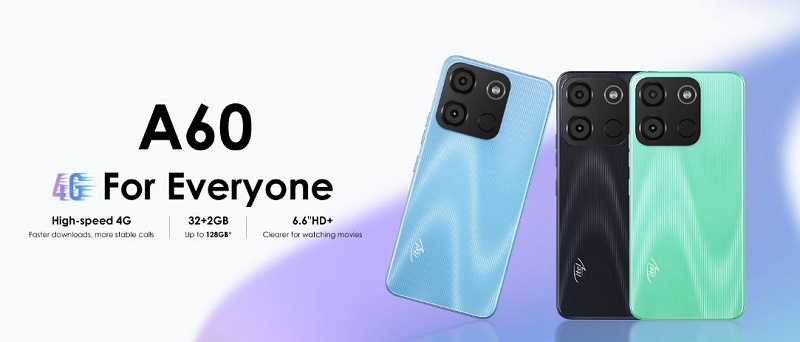 iTel A60 comes with a very good display on a budget
Experience the world in vibrant clarity through the iTel A60's impressive 6.6-inch display. Whether you're scrolling through social media, watching your favorite movies, or playing the latest games, the display brings every detail to life with rich colors and crisp visuals. Say goodbye to squinting at your screen – the A60 offers a spacious canvas that enhances your viewing experience like never before.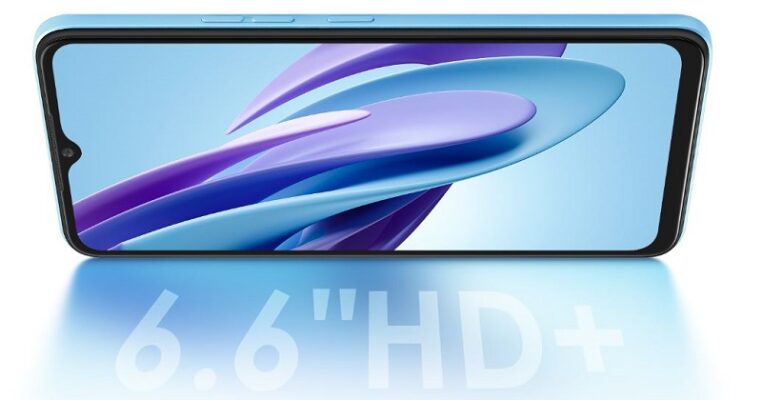 Capture Memories, Brilliantly
iTel A60's impressive 8MP rear camera enables you to make every moment a masterpiece. Capture stunning photos with remarkable clarity and detail, even in low-light conditions. Whether it's a breathtaking sunset or a candid portrait, the camera's advanced features ensure that every shot is Instagram-worthy. The 5MP front camera with flash lets you take gorgeous selfies that light up your world, making your social media game stronger than ever.
Elegance Meets Durability
The iTel A60 isn't just a gadget – it's an extension of your style. Crafted with attention to detail, its slim and elegant design fits comfortably in your hand, making it a statement piece wherever you go. But the iTel A60 doesn't compromise on durability – its robust construction ensures that it can handle the rigors of daily life, keeping up with your hustle and bustle.
iTel A60 Long-Lasting Battery
Stay connected without the constant worry of running out of battery. The A60 boasts a long-lasting 5000mAh battery that keeps you powered up throughout the day. Whether you're taking calls, sending messages, or streaming content, you can count on the iTel A60 to be by your side, keeping you connected when it matters most.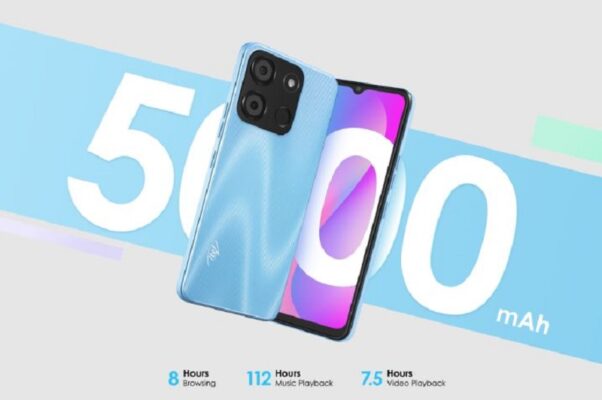 Expand Your Horizons
Say goodbye to storage limitations with the iTel A60's generous 16GB of internal storage. Whether it's your favorite apps, photos, or music, you'll have ample space to store everything that matters. And if that's not enough, the microSD card slot allows you to expand your storage even further, ensuring that you never have to compromise on what you want to keep.
iTel A60 gives Security at Your Fingertips
Your privacy and security are paramount, and the A60 ensures that your data remains in safe hands. With the rear-mounted fingerprint sensor, unlocking your phone becomes a breeze – just a touch is all it takes to access your world. Rest easy knowing that your information is protected, allowing you to use your device with confidence.
Connectivity Simplified
The iTel A60's dual SIM capability allows you to manage both your work and personal life seamlessly. Say goodbye to carrying two phones – you can enjoy the convenience of having two numbers in one device. Stay connected to your loved ones, colleagues, and the world around you without any hassle. Furthermore, this supports 4G networks in Kenya. 
Experience the iTel A60 Difference
In a market flooded with many affordable phone options, the A60 stands out as a beacon of innovation and affordability. It's a testament to iTel's commitment to delivering cutting-edge technology that enriches lives. Elevate your mobile experience with the iTel A60, the smartphone that combines elegance, performance, and value like no other.
Upgrade Your Possibilities Today with the iTel A60
Seize the opportunity to own a device that empowers you to do more. The iTel A60 is your gateway to a world of possibilities – from capturing memories with stunning photos to seamless multitasking and everything in between. Experience the future of smartphones at your fingertips. Don't wait – upgrade to the A60 today and embark on a journey of endless connections and extraordinary experiences.
In a market overflowing with options, the iTel A60 emerges as a distinctive blend of innovation and affordability. It's a reflection of iTel's commitment to delivering state-of-the-art technology that enriches lives. Elevate your mobile experience with the A60, a smartphone that seamlessly combines elegance, performance, and exceptional value.
Make Your Move. Buy iTel A60 Today from Gadgets Leo
The chance to own a device that empowers you to achieve more is here. The iTel A60 opens the door to boundless possibilities – from capturing moments with breathtaking photos to smooth multitasking and beyond. Witness the future of smartphones right at your fingertips. There's no need to wait – buy the iTel A60 today and set forth on a journey filled with endless connections and extraordinary adventures.