Are you on the hunt for a top-notch mid-range smartphone that won't break the bank? Look no further than the Samsung Galaxy A34 5G! Packed with premium features and boasting the powerful MediaTek Dimensity 1080 processor, this device offers an unrivaled user experience with no lag in sight. Let's dive into the reasons why you should consider making the Galaxy A34 5G your next smartphone purchase.
Stunning Visuals and Display
Experience the world in vibrant colors and crystal-clear clarity with the Samsung A34 5G's large 6.6-inch display. Whether you're streaming your favorite movies, gaming, or simply browsing the web, the 120Hz FHD+ AMOLED display ensures a smooth and captivating visual experience. The tiny teardrop-shaped notch housing the selfie camera adds to the sleek "Infinity U" design, keeping distractions at bay while you immerse yourself in content.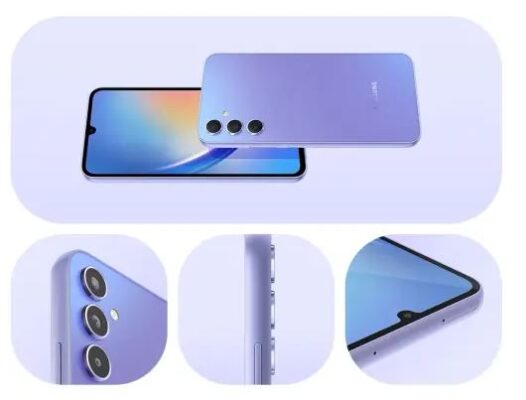 Samsung Galaxy A34 5G powerful performance
Say goodbye to performance hiccups with the Samsung Galaxy A34 5G's MediaTek Dimensity 1080 processor. Enjoy a 17% boost in CPU performance and a 14% increase in GPU performance compared to its predecessor. Running on Samsung's OneUI 5.1 on top of Android 13, the phone offers a seamless and user-friendly interface. Plus, with the added convenience of using Snapchat filters directly within the Camera app, capturing and sharing moments has never been more fun.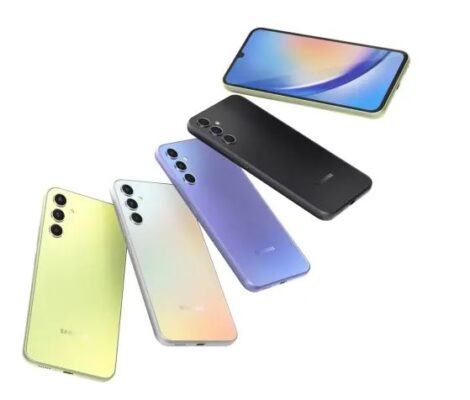 Capture Life's Moments in Stunning Detail
Preserve your memories with the Samsung Galaxy A34 5G's impressive camera system. Equipped with a 48MP primary camera, 8MP ultra-wide lens, and 5MP macro camera, you'll have the versatility to snap photos from various perspectives. Benefit from Optical Image Stabilization (OIS) and Night Mode support for sharper and clearer images, even in challenging lighting conditions. The 13MP selfie camera ensures your self-portraits are equally impressive.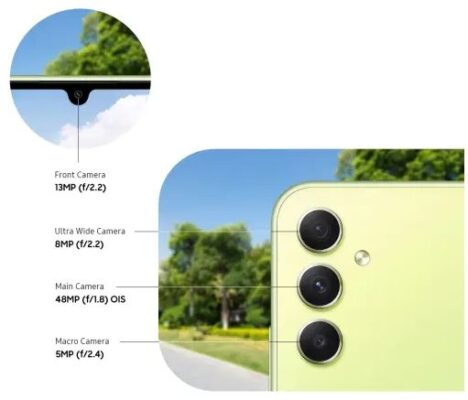 Long-Lasting Battery Life
Worried about your phone's battery running out during the day? Fret no more! The Galaxy A34 5G boasts a hefty 5,000mAh battery, ensuring you stay connected and powered up all day long. Thanks to the energy-saving processor, you can even extend usage up to an impressive 2.5 days on a single charge. That's uninterrupted productivity and entertainment without the need to constantly search for a power outlet.
A Sleek and Durable Design
Not only is the A34 5G packed with features, but it also sports a sleek and modern design. With a glass-like back that provides both comfort and durability, this lightweight phone is perfect for on-the-go use. Choose from four stunning color options – Awesome Graphite, Amazing Silver, Awesome Lime, and Awesome Violet – to match your style and personality.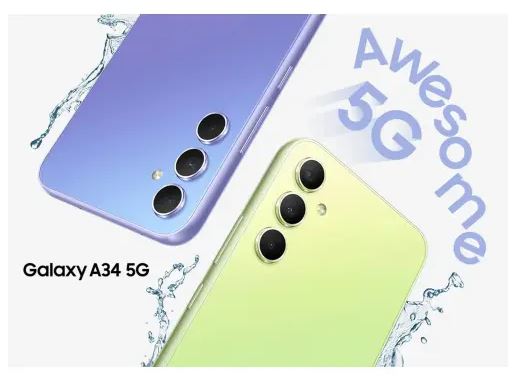 Why Choose Samsung Galaxy A34 5G?
The Galaxy A34 5G is the ultimate mid-range smartphone that delivers on all fronts. With its powerful performance, captivating display, exceptional camera capabilities, and long-lasting battery life, it's a cost-effective alternative with premium features. While charging speed might not be as rapid as some high-end devices, the overall package is too tempting to resist.
Join the growing number of satisfied customers and experience the excellence of Samsung's Galaxy A34 5G for yourself. Embrace the future of mid-range smartphones and take your mobile experience to new heights. Don't miss out on this top contender in the market. Buy the Samsung A34 5G now and enjoy a world of possibilities at your fingertips!
Unboxing Video